Guess what guys. It's time for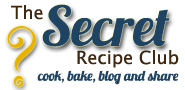 This month I was lucky to receive Cook with Sara. There were certainly a lot of options and many both savory and sweet , this month I was looking for the latter. My sweet tooth was wanting something new, something summery. We have been buying plums quite regularly at the grocery store, as they have been cheap and delicious, so when I found the Plum Snack Cake I knew that was what I wanted to make. Served warm with Ice cream for dessert, or plain for a snack or breakfast, either way is lovely, and we had both! A great way to use up some summer fruit, before we get over to the season filled with pumpkins and apples, enjoy this one while you can!
1 1/2 cups white whole wheat flour – I used 3/4 cup whole wheat and 3/4 cup all-purpose
1 tsp. baking powder
1/4 tsp. baking soda
1/2 tsp. salt
2 Tbsp. canola oil
2 1/2 Tbsp. butter
1/3 cup sugar
1 egg
1/2 tsp. almond extract
1/2 cup vanilla yogurt
1 cup plums, seeded, sliced
1 Tbsp. turbinado sugar
1. Mix together flour, baking powder, baking soda, and salt. In separate bowl mix together oil, butter ( I melted mine), sugar, egg, almond extract and vanilla. Add to dry ingredients and beat until just combined. Pour into a greased 8 inch square baking pan.
2. Top with sliced plums and sprinkle with turbinado sugar.
3. Bake for 25-30 minutes until a toothpick inserted in centre comes out clean.
4. Eat and enjoy!